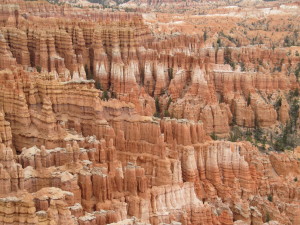 I was thinking about time today. About the many things that take a lot of time – like Bryce Canyon, pictured here. Time is required for "external" matters, such as our professional careers. But it is also required for "internal" matters, such as the development of wisdom.
It's easy to focus on the externals because we can see them. The results are right there in front of us, staring us in the face. But we need to make sure we don't neglect the internal goals we have for ourselves. They may not be as readily visible, but they are just as (if not more) important than the external. In fact, the internal qualities and characteristics we develop will significantly impact what we can accomplish in the external arena.
Reflect for a moment: what great and beautiful internal goals do you have? Wisdom? Resiliency? Calmness? Are you giving those goals the time they require?