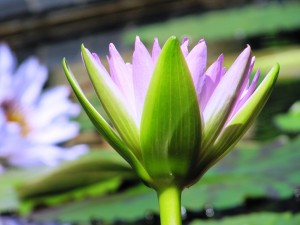 I hide clocks.
There is one in the living room, but it's small and unobtrusive. You don't have to know what time it is unless you really want to know what time it is.
The kitchen, I admit, does have a clock out in the open, but I need that for cooking.
The one in my study died two years ago and I never bothered getting a new battery for it (it takes one of those little watch batteries). The time notation on the corner of my computer screen is enough.
And the one in my bedroom finally gave up the ghost last month. I figured I couldn't live without that one. But surprisingly, after procrastinating several weeks to get a new clock, I realized I was sleeping better without having a glowing reminder of what time it was. My mornings were less harried, too. My cat makes a very reliable alarm clock, it turns out, and he's a whole lot nicer to wake up to!
My family laughs at me and asks, "How do you know what time it is?"
I reply, "If I need to know, I know where to look. But most of the time, I don't need to know, and I don't want to know."
I have found that by becoming less time conscious, I have lowered my stress level. There is a rhythm to life, one that is comfortable yet productive – I don't have to be driven by the clock as if it were a whip.
Perhaps you have a friendlier relationship with clocks than I did. But if you find yourself constantly looking at the time and feeling rushed, harried, and stressed, hide a few of those clocks. It will feel awkward at first, but you may find – as I did – that you have more time when you pay less attention to it.