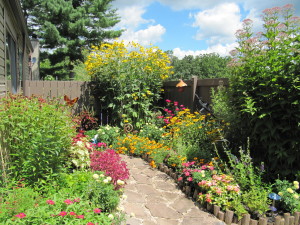 As I look out on my garden beds today, they are nothing but bare ground. I'd show you a picture, but it would be rather depressing.
Or rather, it would be, except for one thing: I know what is coming. As you can see from this picture of my garden last year, a whole lot of color and life and vibrancy is coming!
As I was looking out at the bare earth today, I thought, "Hope, expectancy, and trust are all part of thriving. These are what get us through the barren times. The faith that the things we planted will grow, will bloom, will bear fruit. The knowledge that seasons in life change … and that there is always something new and beautiful right around the corner."
It's the first day of spring today … rejoice and be glad in it!